Shadows of Valor by Elsie Park
Elsie Park is my publishing sister and her medieval romance novel, Shadows of Valor, released recently on September 7th! She's here with a guest post today. Enjoy!
Growing up in a small mountain town outside of Yosemite National Park, California, U.S.A., Elsie enjoyed playing soccer, playing piano, reading, writing, art and spending time with family and friends. Years ago she spent 18 months in Italy teaching the gospel of Jesus Christ. Seeing the castles and old Roman cities only added to her fascination for ancient and medieval culture. In college she studied zoology, botany and criminal justice. She's worked as a wildland firefighter, security guard and a police officer, but she is currently a stay-at-home mom, spending time with her children and husband. She loves thinking up new ideas for interesting stories and musical compositions to go with them.
Four weeks before the book launch for my debut medieval romantic fiction, SHADOWS OF VALOR, I was out jogging in the cool morning air, listening to one of my 80's mixes I hadn't listened to for a long time. The song, The Glory of Love by Peter Cetera was among the variety. Hearing it again, I thought, "Wow, if I had to pick a modern representation of Shadows of Valor
, then The Glory of Love would be IT!" I first heard the song in The Karate Kid II and was immediately hooked. The song has been a favorite of mine ever since. I often get shivers (the good kind) when Cetera sings, "Just like a knight in shining armor from a long time ago. Just in time I will save the day. Take you to my castle far away." Such a great song!
I think just about every young girl and teen (and really any woman of any age) hope and dream for that figurative "knight" to come into their lives, sweep them off their feet and honor and love them as the wonderful women they are. Such were my ultimate hopes as well.
As a young unmarried woman listening to The Glory of Love, I had concentrated more on the knight coming to the rescue part of the song, but after I got married (and reality set in), then other parts of the song held a meaning for me that I'd not considered before, especially in these lyrics, "Sometimes I just forget. Say things I might regret. It breaks my heart to see you crying. I don't want to lose you. I could never make it alone." When married couples argue and say hurtful things to each other (which happens more often than couples like to admit), in order to set things right again, they have to STOP and REMEMBER why they married each other, why they love each other, and that they want to be together forever and not let anything come between them and that goal. I've drawn strength and encouragement from this song for countless years.
In relation to SHADOWS OF VALOR, this song poses a great representation of the relationship between my two main characters, Sir Calan and Lady Elsbeth. Each desperately needs someone to rescue them from the trials they face, both are injured and struggling with hurt emotions from careless actions, and they must remember what it is about each other that they love and revere. They must decide if these things are worth fighting for.
Peter Cetera's lyrics wrap it all up: "
You keep me standing tall. You help me through it all. I'm always strong when you're beside me. I have always needed you. I could never make it alone. I am the man who will fight for your honor. I'll be the hero you've been dreaming of. We'll live forever, knowing together, that we did it all for the glory of love
." *sniff* Brings tears to my eyes. Here's the Youtube link for anyone interested (vocal and lyrics only): http://www.youtube.com/watch?v=wwXwLU4HihA
Thanks SO MUCH for having me as a guest on your awesome blog, Amie and Bethanie Borst!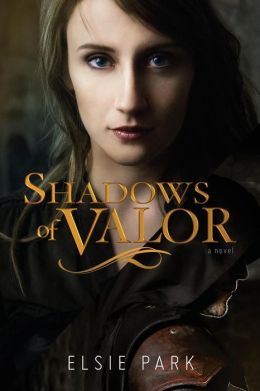 Taking place in 1300 A.D. England, The Shadow (aka Sir Calan), a knight-spy working under the direction of King Edward I, hunts down and arrests smugglers who defy the law and evade paying their taxes. The Shadow's duty is fueled by vengeance from a childhood experience against smugglers. Dealing with society at its worst, The Shadow becomes cynical and struggles to reign in his desire to execute lethal justice before turning the perpetrators over to local authorities. He feels his soul turning black with hate in his continual fight against evil.
A childhood acquaintance, Lady Elsbeth, enters his life years later, bringing light to his soul once again, but she has a story of her own, accompanied by physical and emotional scars. Calan feel he needs Elsbeth in his life, but in an effort to keep his identity and duty secret, he must deceive her. This creates distrust and uncertainty between them, as she accepts another man as her suitor. But Calan must ask the question: What's worth fighting for more? His long-standing desire to avenge a childhood friend or the woman who may be his salvation? What entails is a glorious tale full of deceit, greed, inner struggles, betrayal, and most of all—love.
Thanks for joining us today, Elsie! I loved hearing about how music influenced you. In case you didn't know, Elsie also composed some of the music to her novel. You can view the sheet music at her
website
.